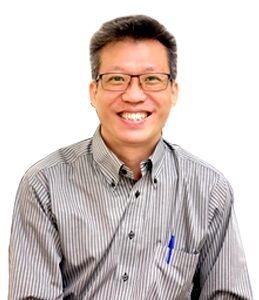 "Change is a journey, not a destination. The goal is not to be better than the other person, but your previous self."
Having been in the helping profession for close to 25 years, Mou Nyee has ample experience helping individuals reach their potential.
He works with both youths and adults facing stress, behavioural challenges, or self-esteem issues, as well as couples looking to navigate conflicts and challenges in their relationships, or are at crossroads as changes surface (eg marriage, parenting). He too offers clinical supervision for counsellors and social workers.
He finds great joy in partnering with his clients to help them find more clarity in their lives, and seeing them align their values, beliefs, and actions to achieve their purpose. The therapeutic approaches he employs include Solution Focused Brief Therapy, Cognitive Behavioural Therapy, Person-Centered Therapy, and Family Therapy.
Mou Nyee has a Bachelor's Degree in Social Work from the National University of Singapore, a Master's Degree in Counselling from the Edith Cowan University (Australia) and a second Master's Degree in Public Health from the London School of Hygiene & Tropical Medicine. He has also attained a Postgraduate Diploma in Solution Focused Brief Therapy and a Practitioner Certificate in Neuro-Linguistic Programming (NLP). Besides being a Certified Solution Focused Practitioner, Mou Nyee is also a Certified Insight Coach awarded by the Association of Coach Training Organisations (ACTO) as well as a member of the International Coaching Federation.
Mou Nyee is also an adjunct trainer at various institutions such as the Singapore University of Social Sciences (SUSS), Singapore Institute of Technology (SIT), Social Service Institute (SSI), Executive Counselling and Training Academy (ECTA), and Academy of Human Development. He has previously provided school-based counselling services and run programmes for youths and parents too.
Mou Nyee views hope as the essence of life and believes that working with clients will induce a ripple effect, where those encouraged will, in turn, go on to uplift others. 
He currently resides in Singapore.
Educational qualifications / certifications:
Professional memberships / affiliations:
What Mou Nyee can help you with: