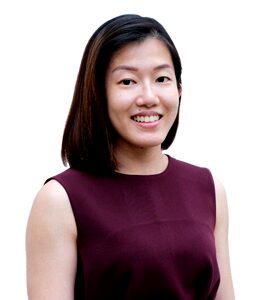 "Only when we are brave enough to explore the darkness will we discover the infinite power of our light." – Brené Brown
As a counsellor, Ser Fee has worked with young adults and professionals from major corporations such as tech companies, accounting firms and financial institutions. Her clients include locals and expatriates, private clients as well as EAP clients and their dependents. She also has significant experience with children and youths.
She believes that all of us have the capacity for growth and the potential to thrive in our pursuits, have more fulfilling relationships and the capacity to experience a richer life with more openness and authenticity.

Ser Fee is trained in modalities like Solution-Focused Brief Therapy (SFBT), Cognitive Behavioural Therapy (CBT) and Choice Theory Reality Therapy (CTRT) and employs an integrative approach with techniques from other modalities such as Narrative Therapy and mindfulness practice.
She holds a Masters in Counselling from Monash University, Australia, a Bachelor in Arts (Psychology) from Nanyang Technological University, Singapore as well as a Diploma in Counselling for Schools (Singapore). She is a Level 3 Certified Master Practitioner with the Association of Psychotherapists and Counsellors (Singapore).
She welcomes clients with big and small concerns, including those experiencing mood difficulties (eg stress & anxiety, depression, and anger) and life stressors (eg transition to new roles & environment, workplace & relationship conflicts as well as grief & loss) or those interested to improve themselves and their lives (eg self-esteem, communication and life satisfaction).
Save for travelling and the period she lived in Europe for academic exchange, Ser Fee lives in Singapore.
I like that Ser Fee does not judge me for what I feel and affirms my experiences. She is very empathetic and makes me feel very comfortable with sharing my feelings and experiences. Additionally, she also deals with my issues with my identity with tact and makes me feel valued for who I am. She also pushes me to be better and look at situations from a different perspective. She doesn't chastise me for the times when I don't know how to look deeply into myself and rather asks alternative questions to get down to the root of how I'm feeling. She has greatly helped me think about and cope with my relationship with my mother and my identity. As a mixed race person – she has great tact with helping me through my identity issues and does not make me feel small.
Ser Fee is easy to talk to, and she encourages open communication. I feel comfortable sharing my thoughts and feelings with her, and I know that my hour with her provides a safe environment for me to open up. She is also able to help me adopt fresh perspectives on my recurring unhealthy thought patterns and come up with actionable ways to manage them. It's still early on but I look forward to seeing what consistent therapy can achieve! I also like that there are weekend sessions available which makes it easier for working adults like me.
Ser Fee is easy to talk to and I feel at ease opening up to her. During sessions, she guides me into looking at my problems from another perspective. She is also patient and able to spot my emotions adeptly, often asking questions relating to how I am feeling at that moment which helps to open up my mind.
Ser Fee has been very patient and pointed in her sessions with me. She is objective and empathises in a sincere manner. I appreciate the quality of my sessions.
Ser Fee is non-judgemental and easy to talk to. I feel comfortable sharing my thoughts and feelings with her. She is able guide me to through when I have difficulties in expressing my thoughts. She also helps approach my worries and concerns from different perspectives.
Ser Fee is really good at providing insights and seems to have a good sense of intuition when it comes to anxiety-related matters. Her curiosity and use of self has been a better match for me than other therapists so far. On this note, I think being able to evaluate therapist profiles and select instead being assigned a therapist was helpful to get a good fit. Ser Fee also brings a nice mix of challenge and support on topics I've brought to the conversation and her responses have been kind and authentic. I appreciate the care and stability she takes in navigating issues. I like how she does a mix of education and therapy. I think overall her personality and presence helps me to facilitate the kind of questions and insights that was brought up.
Ser Fee was able to make observations, notice patterns and make sense of my ramblings to provide helpful suggestions and pointers to consider.
Ser Fee makes me feel comfortable sharing my truths and helps me put words to my feelings and experiences. Although I have difficulty verbalising certain things, she is always patient and kind, and gives me time to think and explore the different possibilities of what they could be. I like that my sessions are online, so I won't feel anxious or self-conscious about being in the same physical space. Ser Fee has also prompted me to see myself and situations in a different light and provided practical tips on how to work on my mental health and to understand myself better. I have never felt judged by her and I honestly do not think that I will because she is constantly reassuring and validating me. I am glad to have her as my therapist.
Ser Fee's ability to ask difficult questions and bring new insights has been invaluable. My sessions with her have helped me to shed some baggage that I've been carrying for a long time.
Excellent platform which is incredibly easy to use and transparent. They have a wide selection of therapists and provide great details about their experience, background and expertise. I worked with Ser Fee and thought she was very perceptive and meticulous in identifying core issues while being very warm and kind.
Educational qualifications / certifications:
Professional memberships / affiliations:
What Ser Fee can help you with: