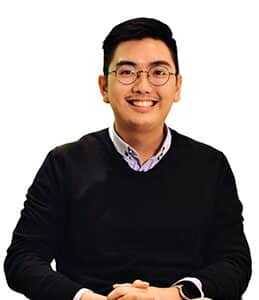 "Happiness can be found even in the darkest of times if one only remembers to turn on the light." – Albus Dumbledore
Joseph is a professional counsellor, educator and mental health advocate.
He believes that everyone has the wisdom to make better decisions and use their strengths and resources to live a rich, fulfilling and value-driven life. By creating a safe and non-judgmental environment for his clients, Joseph aims to help them achieve positive, lasting improvements in their lives.
As a professional counsellor, Joseph has provided counselling services to diverse private and EAP clients and conducted corporate wellness talks to raise awareness about mental health.
He enjoys working closely with clients to help them identify root issues, connect the dots, see the presenting narratives differently and work towards a common goal. Joseph has helped many adults and young adults in self-esteem, anger management, stress management, depression, anxiety issues, relationship and family difficulties and other life challenges.
Joseph applies integrative approaches such as Cognitive Behavioural Therapy, Dialectal Behavioural Therapy, Positive Psychology, Motivational Interviewing, etc. He also provides psycho-education for his clients to help them learn about their emotions and cope differently, and incorporates EQ skills training and mindfulness in his sessions as well.
His professional background includes lecturing and programme management. As a lecturer, he facilitated the modules of the Specialist Diploma in Counselling and Psychology. He also  develops and customises new programmes, workshops, and courses for corporate organisations, government agencies, schools and the public.
Joseph holds a Masters in Counselling from Monash University and is a Provisional Clinical Member with Singapore Association for Counselling. He has received training in Positive Psychology and has attained Level 2 Gottman Method Couples Therapy Certification. Joseph is also a certified Six Seconds Emotional Intelligence (EQ) Practitioner.
Joseph currently resides in Singapore.
Joseph is a very patient therapist; he allows me to express my thoughts, no matter how half-baked, and process the real meanings behind those thoughts together. I didn't feel the need to hold back sharing my stories, and he is able to provide a judgement-free zone to really improve my mental health and life in general. He was able to quickly adapt to my learning style, and eased me (a total therapy newbie) into the process in just the early sessions.
Joseph is empathetic, patient, and listens to me very attentively. He is also non-judgmental and this helps me share my thoughts and feelings freely.
Joseph has been an excellent therapist. He got me thinking about my personal values which has made a big difference in how I see things in my life now. During sessions, he also gave lots of useful tips and advice.
Joseph's observations and advice have helped me to express my emotions and feelings, and realise recurring patterns I developed since early childhood. I have been very comfortable sharing my problems with him and received helpful feedbacks to put into practice.
Educational qualifications / certifications:
Professional memberships:
What Joseph can help with: