Professional Counsellors in Singapore
A little support can make a big difference!
At TYHO, we help kids who struggle to make themselves heard.
And we're happy that almost 98% of our community continues expressing satisfaction with our services.
Explore our counsellors' profiles, videos, and client testimonials to find someone who can match your child's needs.
How Therapy Works on TYHO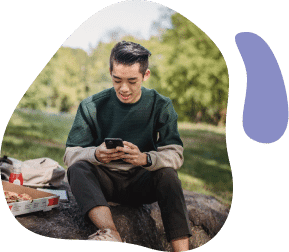 Read their profiles and watch their videos to find someone to meet your child's needs.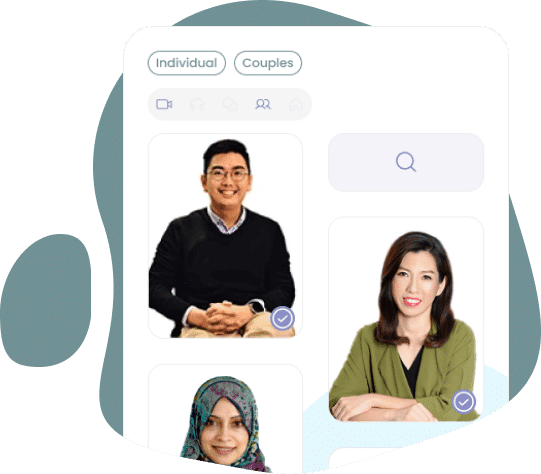 Pick your service, medium, and available date to book a session for your child.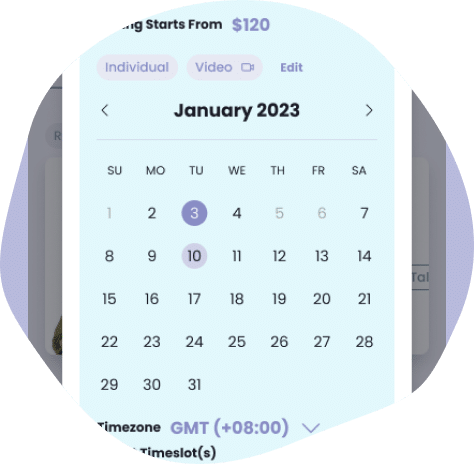 Opt for online video or audio sessions, or arrange an in-person meeting based on your comfort.
Why Child Therapy With TYHO?​
Connect with Singaporean child counsellors known for their compassion, expertise, and dedication.
What Is Child Psychology?
As a parent, your child's wellbeing is probably your top priority. If you're seeking help for your child, you may be looking for a child psychologist. But what is child psychology, what exactly does a child psychologist do, and how can you tell if your child needs one?
Child psychology is a specialised field of study within psychology. It focuses on children's mental, emotional, and social development from birth through adolescence.
Child psychologists understand the complexities of a child's mind – how they think, feel, and interact with the world around them.
These professionals observe children's behaviour patterns, emotions, and thoughts to understand their developmental progress. They explore various aspects like learning abilities, cognitive development, emotional growth, and social interactions.
This understanding aids in diagnosing and treating various developmental, emotional, and behavioural issues such as ADHD, autism, anxiety, and depression.
What do child psychologists do?
A child psychologist is a mental health expert who specialises in helping children and their families. More specifically, they assess, diagnose, and treat children's emotional, behavioural, and mental health issues.
A child psychologist uses a range of therapies, such as talk therapy, play therapy, and cognitive-behavioural therapy.
From time to time, they may also use an eclectic approach to help children overcome challenges and build healthy coping mechanisms.
Child psychologists have received intensive training and skills to evaluate and help infants, children, and adolescents.
Furthermore, they have an in-depth understanding of children's basic and psychological needs and how their environment and cultural contexts influence their:
interpersonal adjustments;
developmental processes; and
behavioural adaptations.
Child psychologists in Singapore use psychological interventions like behaviour management and prevention programs and develop strategies to prevent bullying, addictions, and teen pregnancy.
In addition, a child psychologist often collaborates with other healthcare professionals to devise the best treatment option based on individual needs.
Treatment for children usually varies from treatment for adults due to differences in age, maturity, and cognitive levels. A child psychologist is important in providing comprehensive care for children with medical issues.
For example, they may help children with chronic pain or hyperactivity or offer therapeutic services to cope with a chronic illness.
How do I know if my child needs help?
Every child goes through ups and downs as they navigate their way through childhood and adolescence. Yet, certain behaviours might signal a deeper issue, one that professional assistance can help resolve.
Here's what to look out for:
Persistent feelings of sadness or withdrawal: All children experience mood swings and occasional sadness. However, if your child seems persistently sad, irritable, or withdrawn for a prolonged period, it might be a sign that they're struggling.
Dramatic changes in academic performance: Sudden drops in grades, loss of interest in school, or regular complaints about school problems can indicate that your child is grappling with an underlying issue.
Changes in sleep or appetite: Significant changes in sleep patterns, including chronic insomnia or excessive sleep, or dramatic shifts in eating habits may signal emotional or mental health issues.
Intense emotions: Strong feelings of fear, worry, or anxiety that prevent them from participating in activities could indicate that your child may need help.
Behaviour problems: Persistent difficulties getting along with others, defiance, aggression, or behavioural disruptions can also be red flags.
Difficulty concentrating: If your child has trouble paying attention or constantly acts impulsively, it might suggest they need help.
Every child is unique, and there is no one-size-fits-all approach to mental health. If your child exhibits any of these signs or if you have a gut feeling that something isn't right, trust your instincts. Early intervention is crucial and can significantly impact your child's life.
Taking Your Child to a Psychologist
How can child psychologists help my child?
What conditions do child psychologists treat?
What questions should I ask my child's psychologist?
How can child psychologists help my child?
A child psychologist helps children by creating a safe and supportive environment where they can express their thoughts and feelings.
Through therapy, children can learn new coping skills, better understand themselves, and develop healthy relationships.
Below is a non-exhaustive list of things they can help your child with:
What conditions do child psychologists treat?
Child psychologists have the expertise to treat a variety of mental health and behavioural challenges in children and adolescents.
Some of the many common conditions they treat include:
What questions should I ask my child's psychologist?
Your initial meetings with a child psychologist may raise questions or concerns as you are unfamiliar with the therapeutic process.
We have been there and want to help you with this process. Before your child attends their first session, you might want to clearly understand the psychologist's approach and your child's needs and goals.
For instance, some helpful questions to ask them include:
In essence, these inquiries can help you make an informed decision about a child psychologist and ensure the best possible outcome for your child's journey in therapy!
Frequently Asked Questions
How long do children need therapy?
What is the difference between a child behavioural psychologist and a child psychiatrist?
What happens during a session?
How to choose a child psychologist?
How long do children need therapy?
The length of therapy for children can significantly vary as it depends on several factors, such as the nature and severity of the child's issue, the child's age, and their response to therapy.
Some children may see improvement within a few sessions. In contrast, others may benefit from longer-term therapy lasting several months or even years.
On average, many children engage in therapy for about 3 to 6 months. It's important for parents and therapists to regularly evaluate the child's progress and adjust the therapy plan as needed.
Always consult a healthcare professional for guidance based on your child's situation.
Parents play a crucial role in their child's psychological health and can help in several ways:
Support: Encourage your child during therapy and reassure them that it's okay to talk about their feelings.
Consistency: Make sure to keep consistent therapy appointments. Routine can provide a sense of security for children.
Communication: Maintain open communication with the therapist, sharing any changes or concerns you've noticed in your child's behaviour.
Home Practice: Implement strategies or exercises suggested by the therapist at home to reinforce the therapy sessions.
Model Healthy Behaviour: Show your child healthy ways of handling stress and conflict.
Educate Yourself: Learn more about your child's challenges to better understand and support them.
Remember, it's a team effort, and you're an essential part of your child's therapy.
What is the difference between a child behavioural psychologist and a child psychiatrist?
Child psychologists and child psychiatrists are both professionals who work with children and help improve their mental health and wellbeing.
Yet, they differ in their approach and the services they provide.
A child behavioural psychologist is a mental health professional who focuses on children's emotional, social, and behavioural development.
They have extensive knowledge of psychological research and use advanced clinical practice to diagnose mental health and learning issues.
Some common conditions a child behavioural psychologist handles are autism spectrum disorder, dyslexia, and neurodevelopmental disorders.
On the other hand, a child psychiatrist is a medical doctor specialising in treating children with mental illness. They are experts in psychiatry, which studies the human mind and behaviour.
They can prescribe medication and offer therapy, but their focus is primarily on the biological and medical aspects of children's mental health.
What happens during a session?
Child counselling in Singapore is a form of therapy that helps children overcome emotional and psychological issues.
During a typical session, the child psychologist starts by creating a rapport with the child to help them feel comfortable and at ease.
This may include discussing the child's interests, playing games, or simply chatting.
As the session progresses, the psychologist will guide the child in exploring their thoughts, feelings, and behaviours.
This usually involves asking open-ended questions, storytelling, play therapy techniques, or simply listening and providing a non-judgmental space.
The psychologist may also use several therapeutic tools to help the child get in touch with their emotions, such as encouraging the child to draw, paint, sing, or act.
Above all, the psychologist reassures and gently prompts the child to express themselves freely and openly throughout the session. This creates a space for them where they feel heard and validated.
Child counselling creates a positive impact on children's wellbeing. It allows them to overcome difficult situations and improve relationships with family and friends.
At Talk Your Heart Out (TYHO), our professional therapists use a holistic and child-centred lens in therapy.
How to choose a child psychologist?
Choosing the best child psychologist for your child can be difficult, as what is "best" is often subjective.
Generally, the multiple factors taken into consideration include the psychologist's experience, training, and reputation.
Here are some of the most crucial things to keep in mind:
Qualifications and Credentials
In Singapore, child psychologists should have a degree in psychology and a minimum master's degree in the relevant field.
If you are still in doubt, you can always check the Singapore Psychological Society to find a list of registered psychologists.
At TYHO, all our Therapists possess the right qualifications and are committed to providing effective therapy.
Experience and Expertise
Most significantly, one common ground among the best child psychologists in Singapore is their experience working with children and providing support for several mental health conditions.
Hence, it might help to look for someone with a good reputation and who has been in active practice for a few years.
Cost
For the most part, the cost of seeing a child psychologist in Singapore can vary widely depending on the location and organisation.
You can visit our pricing page to learn about our fees and other relevant information.
Location
The child psychologist's location is another factor to keep in mind.
If you are looking for an efficient, accessible, and convenient option for you and your child, you might want to consider online therapy.
Not Ready for Child Therapy?
We understand! While you're contemplating, feel welcome to engage with our supportive network at Talk Your Heart Out.
In our community, we regularly share informative and thought-provoking content through blog posts that delve into various aspects of psychology.
Plus, we host free interactive webinars and events that offer practical advice and tips for nurturing your child's mental well-being.