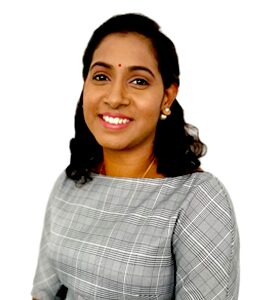 "Sometimes we're tested not to show our weaknesses, but to discover our strengths."
– Deborah King
Punitha is a firm believer in caring for one's mental health. Regular introspection on how people cope and manage their daily lives is of utmost priority in her practice. 
She is passionate about nurturing and helping individuals grow in various domains of their lives. Her core values are to have respect and compassion for people from all walks of life. She believes in providing people with a safe space for them to share and patience in attending and listening to their struggles.
Her professional background includes clinical work, programme management and mentoring others to develop to their full potential. She has 12 years of clinical experience in working with individuals with complex needs, individuals experiencing difficulties in regulating their emotions, addictions, grief and loss. She has a Masters in Applied Psychology (Counselling Psychology) and has worked with individuals facing a wide range of emotional issues including depression, anxiety, addictions and trauma.
While she believes in employing a range of theories and interventions which suit the individuals' needs, she is trained in Cognitive Behavioural Therapy (CBT), Solution-focused Brief Therapy and Emotion-focused Therapy (EFT). Since 2014, she has coached and supervised a team of case managers and social workers, and provided guidance to help them build on their strengths, identify blind spots and advance their career. 
Prior to being a Therapist, Punitha was in the corporate sector where she worked in a Multinational Corporation liaising with a diverse team of engineers both locally and internationally to ensure that programme timelines were completed with logistics and purchasing demands being met. She is also trained in six sigma and constantly looked at opportunities to improve efficiency within her department. It is in doing this work, that she felt the need to do more and to help others to find meaning in their lives. She has continued to do so while working with individuals facing conflicts in their employment and interpersonal relationships. 
As a working mother who has had experience in balancing work and studies, she is no stranger to the stressors that people face in their daily lives. She understands how balancing the different roles in one's life can be a stressor and lead to a potential burnout.
Her primary speciality is in working with addictive behaviour, and emotional regulation. Punitha is also interested in helping clients undergoing stress in their daily lives, anxiety, depression, work-related stressors, relationship issues, grief and loss.
She currently resides in Singapore.
Punitha has a warm, calming presence that put me at immediate ease to open up and share my innermost thoughts and concerns with her. Her interactive approach in sessions means that she actively listens and also attends to my prioritised needs in each session. Her non-judgemental, encouraging and compassionate responses to much of my journey has been so integral to healing, with the effects sometimes felt long after our session has ended. She gives an unhurried space to share one's thoughts and feelings which is a much-needed experience in the stressful rush of life. I also appreciate how she remembers details and can knit together parts of our previous sessions to reflect insights.
Punitha listens to everything I say carefully and her responses to my concerns always bring new insight and perspectives. She is attentive and empathetic and does her best to relate to me and put herself in my shoes. She also helps me set goals for myself regarding my mental health and well-being and I end every session feeling hopeful because now I have something tangible to work towards.
Punitha has been beyond wonderful. I feel heard, and understood especially when questions are being asked that makes me think harder about why and how certain things are and how it relates to current or past situations/reactions. I like that questions asked were very insightful, and probing – it allows me to look deeper into certain issues I wouldn't have thought twice to look at.
Punitha is very understanding, patient and observant. I like that she encourages me to recognise my strengths, while helping me focus on possible actions I would want to do to improve my situation. Very warm and professional. I feel safe sharing my insecurities with her. I have recommended her to another friend.
Educational qualifications / certifications:
What Punitha can help you with: