Heal, Cope, and Thrive with TYHO
At times, we all face major life challenges.
Whether you are an individual, couple, or family – our online counsellors are here to help you.
Access mental health services anytime, including after work hours and on weekends.
Shortlist a TYHO Therapist based on your needs. Visit their profile and watch their videos to find the right fit.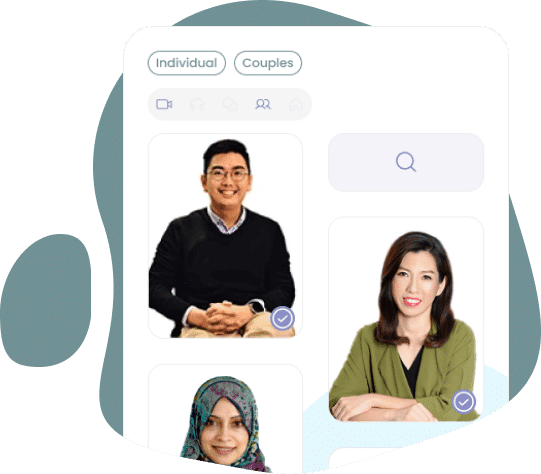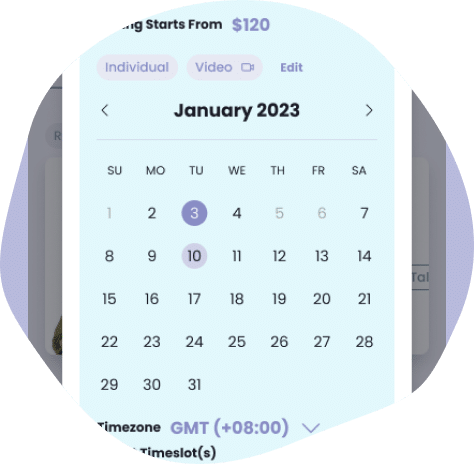 Select the service type, medium, and date to view the availability of a Therapist.
Attend Your Online Therapy
Attend virtual sessions (video/audio) and manage your booking – all via our website.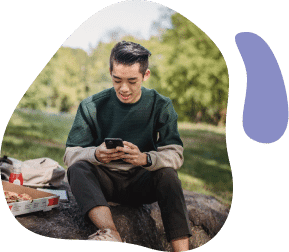 What therapy can help you with and why us
Do you frequently question your capabilities or rely on external validation? Online therapy can help in building your self-worth.
88% find quality of services to be our defining feature
Everyone deserves access to high-quality therapy. That's why our Therapists are committed to providing top-notch services to our clients.
Do you feel like you are always sad and can't enjoy your favourite hobbies anymore? Mental health counsellors can help you regain a sense of joy and purpose.
96% find our platform easy to use
From booking appointments to communicating with your therapist, our platform is designed to streamline the therapy process and make it as stress-free as possible.
Do you tend to worry excessively or have frequent breakdowns? Our therapists can teach you how to manage anxiety effectively.
Only 10% Therapist acceptance rate
We are uncompromising on quality. That is why we curate our Therapist pool carefully and only select the best and most experienced professionals.
Do you argue or fight a lot with your partner? Try online psychotherapy to resolve conflicts in your relationship.
Are work, family, or financial pressure leading to palpitations or difficulty breathing? You can learn relaxation techniques with our expert psychologists.
98% of our clients would recommend TYHO
Our clients have found therapy on our platform easy to access and beneficial, and would recommend TYHO to friends and family.
Are you noticing drastic changes in your sleep, appetite, or physical health due to work expectations? You are not alone, and recovery is possible.
Do you feel like you are lost in life and don't know what to do in the future? Discover practical ways to define and set goals for yourself.
Our clients have given our platform and our mental health Therapists glowing reviews on public platforms such as Trustpilot and Google Reviews.
Have you always struggled to control anger when sad or upset? Through online psychotherapy, you can learn how to regulate your emotions.
Online Therapists Anywhere and Everywhere
Finding the right Mental Health Counsellor
At TYHO, we understand finding a reliable and trustworthy professional counsellor or clinical psychologist can be a daunting task. We are here to make it easy for you to find exceptional Therapists no matter where you live. We have carefully curated a pool of online counsellors who are highly qualified, experienced, and professional – so you don't have to.
What to expect at TYHO
All our online Therapists at TYHO are qualified with a minimum of a Master's degree. They also undergo professional training and are aligned with TYHO values. These include being empathetic, non-judgmental, and sensitive to diverse backgrounds and viewpoints. We guarantee that our Therapists are dedicated to providing their clients with the best care possible.
Find quality of services to be our defining feature.
Find our platform
convenient to use.
Of our clients would recommend TYHO.
Punitha has been beyond wonderful. I feel heard, and understood especially when questions are being asked that makes me think harder about why and how certain things are and how it relates to current or past situations/reactions. I like that questions asked were very insightful, and probing – it allows me to look deeper into certain issues I wouldn't have thought twice to look at.
Priyahnisha has been patient in listening to my problems and advising me with appropriate solutions, which made me feel that I could be more in control of my anxieties. She also takes the time to ask me a lot of questions that help me understand and process my own feelings as well. I feel heard and understood, and I like that there is applicable advice I can use in my daily life.
My session with Mou Nyee was truly a great session and I truly enjoyed it. I've gained so much insight and perspective into myself and my relationship with my wife. The reading material he shared was also helpful. I look forward to my next session with him.
I had a good live chat conversation with Alyssa. She is a great listener – she made me feel better as I was able to discuss my troubles with her openly. If you are looking for a setting that is relaxing and without judgment, take the first step and try out TYHO.
Jeanette is very friendly, open, and didn't judge me for the things I said even when my thoughts were messy and all over the place — she lets me talk through the issues I needed to think about and offered kind support. In particular, I appreciate her her candour and openness to discussing issues (even when my thoughts are quite scattered).
Cheating in a relationship can be a heartbreaking experience. We all dread the harsh reality of this experience, which is probably all too familiar. Perhaps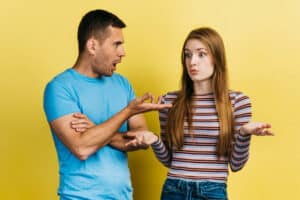 In recent years, the terms "narcissistic" and "gaslighting" have become increasingly prevalent in conversations surrounding relationships and mental health. But what exactly is narcissistic gaslighting, and how does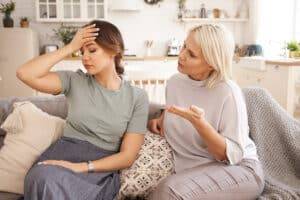 12 May 2023 As children, we rely heavily on our mothers for guidance, support, and love. So, it is natural for us to feel deeply
Subscribe to Our Newsletter
Interested in joining our newsletter and stay connected? Drop your email address below!
Mental health news and tips delivered to your inbox monthly
Frequently Asked Questions
What is counselling or therapy?
What is online counselling or therapy?
How much does counselling cost?
How do I know if I need counselling?
What are the available timings and how do I book a session?
What is the difference between a psychiatrist, clinical psychologist, psychotherapist, professional counsellor and social worker?
What is counselling or therapy?
Counselling, or therapy, is a service provided by mental health Therapists. The aim of therapy is to help people navigate various life challenges and mental health concerns. This process typically involves engaging in one-on-one conversations with a Therapist, where you can openly express your thoughts and feelings in a safe and supportive environment.
Online therapy has become increasingly popular in recent years, thanks to technological advancements and the growing awareness of mental health issues. This form of therapy is conducted via digital platforms, such as video and phone calls.
Online therapy platforms provide a convenient and flexible way for individuals to access mental health services from the comfort of their own homes. At TYHO, we also offer various services, including cognitive behavioural therapy, talk therapy, family therapy, couples therapy, and support for other mental health conditions.
What is online counselling or therapy?
Online counselling, also known as online therapy, is a modern approach to receiving mental health support through digital means.
One of the most significant advantages of online therapy is the elimination of travel time and expense. With traditional face-to-face counselling, clients often need to commute to their therapist's office, which can be time-consuming and costly. Conversely, online therapy allows people to engage in sessions from any location with a stable internet connection. This saves time, money, and reduces the stress associated with travelling.
Another key benefit of online psychotherapy is maintaining anonymity, which can be particularly important for those who feel vulnerable about seeking help.
How much does counselling cost?
The cost of counselling services varies substantially depending on certain factors such as the country, establishment (organisation or private practise) and the mental health expert involved (like psychologists, professional counsellors or psychiatrists).
Generally, an online therapy session costs anywhere from US $60 to US $120. 
At TYHO, we have a remarkable team of qualified online counsellors and psychologists (collectively called Therapists on our platform). They offer high-quality mental health support.
Our Therapists incorporate an integrative approach to help clients cope with their personal and emotional problems. Similarly, psychologists use evidence-based methods to identify several mental health disorders. Then, they devise a treatment plan that is non-medical and long-term.
Selecting a specific type of mental health practitioner is not typically required on our platform. This is because there is a significant overlap in their training, qualifications, and approach.
For example, professional counsellors and psychologists are both skilled at addressing common issues such as depression, anxiety, interpersonal problems, addiction, self-esteem, stress, and so on.
How do I know if I need counselling?
People seek mental health services for several reasons. However, these are a few common indicators that you may need therapy:
you have been experiencing a consistently low mood;
you have a lack of interest in your usual activities; or
you are struggling to maintain connections with loved ones.
Most times, we postpone trying online therapy because we think that our problems are not "important enough" and that they can wait. Sometimes, people may avoid seeking online therapy because they may be confused about what to discuss or how to open up with a Therapist. If you are still hesitant to try counselling, you can read more about the signs that you may need therapy and the help you can get
here
.
What are the available timings and how do I book a session?
Typically, our initial appointments are scheduled 24 hours in advance. This ensures that our Therapists have sufficient time to prepare for the online sessions. You can view each Therapists' availabilities on their profiles or through this link.
Should you require help choosing an online Therapist or have any other inquiries, do not hesitate to contact us via email at [email protected] or through WhatsApp.
What is the difference between a psychiatrist, clinical psychologist, psychotherapist, professional counsellor and social worker?
Psychiatrist: Diagnoses mental health disorders and can prescribe medication as part of the treatment plan.
Clinical Psychologist: Responsible for identifying mental health problems and providing long-term, non-pharmacological management for more severe conditions.
Psychotherapist: Aim to help clients understand their thought patterns by identifying the causes of their struggles using distinct therapeutic methods and approaches.
Professional Counsellor: Utilises a diverse range of integrative therapies to assist individuals in addressing personal and emotional challenges.
Social Worker: Collaborates with and supports individuals and families, liaising between them and various community stakeholders to meet their needs.