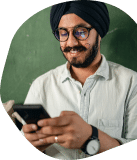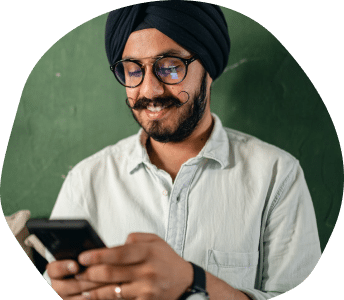 What is an introductory session?
We now offer introductory sessions in Malaysia and India, allowing you to assess your compatibility with your selected Therapist.
Each introductory session lasts for 30 minutes, allowing you ample time to explore and evaluate your connection with the Therapist of your choice.
Please note that each client is entitled to one introductory session per Therapist, ensuring a fair chance for you to make an informed decision about your therapeutic journey.
We understand the importance of finding the right Therapist to meet your needs. Whether it's your first session or a fresh start, our introductory sessions serve as a great starting point.
What does a clinical psychologist do?
Clinical psychologists have usually studied psychology at a master's level and are experts in the science behind human emotions, behaviour, and mental processes.
They use evidence-based strategies to manage mental health illnesses and disorders non-medicinally over the long-term.
They may also perform assessments and analyse the results, as well as diagnose psychological or behavioural conditions.
What does a counsellor, or counselling psychologist, do?
TYHO's professional counsellors and counselling psychologists all have at least a master's degree in the domain. (Please note that outside of TYHO, counsellors may only have a post-graduate diploma instead.)
Counsellors and counselling psychologists are highly skilled in applying integrative therapies to assist people in working through their personal and emotional issues. They tend to adopt a more person-centred approach that focuses on the overall wellbeing of clients when helping them address specific problems.
If you would like to talk about a specific issue (eg adjustment to a new job, coping with loss, problems at school), then a counsellor or counselling psychologist may be appropriate to approach.
How do I know if my sessions are working for me?
When we have been attending sessions for a while, it can feel almost like "I'm here, what's next?"
While it is normal to expect results fast, the simple fact is that progress takes time. To gauge if therapy is working for you, look out for these signs that suggest you are on the right track:
> You begin to notice small changes in both your physical and mental health (eg better sleep, uplifted moods). Do keep in mind that therapy is not always linear and that sometimes you will have bad days or weeks.
> You don't dread sessions. You may even start looking forward to them! Opening up to a stranger can be uncomfortable initially, but over time you'll realise that it is a dedicated time for you to be in touch with your inner world.
> You feel respected and validated. A hallmark of therapy is being in a safe environment where your needs are heard.
> You feel better equipped to manage bad days. After several sessions, you have developed a repertoire of coping skills to help you weather the storms. This can be an improvement in dealing with conflicts or even simply learning to prioritise yourself.
How often should I have therapy sessions?
For a start, individuals can consider going for therapy once a week. Research suggests that weekly sessions allow regularity which is highly beneficial to clients, particularly at the beginning of the therapeutic journey.
Having regular weekly sessions develops one's emotional safety (Cameron, 2018) and enables one to build trust and rapport with one's therapist (Hall, 2020).
This allows one to progress at a steady pace and ensures that during sessions, more time can be dedicated to working through one's issues, rather than filling the therapist in about the time that has elapsed. Moreover, weekly check-ins reduce the possibility of slipping into bad habits or becoming overwhelmed by unwanted thoughts and feelings.
In addition, research indicates that after attending an average of 8 sessions, individuals report the greatest decrease in psychological distress and are most likely to experience positive changes in their lives (Foundation Psychology; Saxon et al., 2016).
It may also be helpful to note that individuals who decide to withdraw within or just after 3 sessions are less likely to experience positive outcomes as things often start taking a turn for the better after the third session (Crago & Gardner, 2012).
Nonetheless, committing to therapy is an investment of both one's time and financial resources. You may want to speak with your therapist and come up with a plan or schedule that works best for you.
What can and can't I talk about with my Therapist?
You can talk with your Therapist about anything at all – there is no 'right' or 'wrong' thing to talk about or a taboo topic that cannot be discussed.
Under what circumstances will my confidential information be disclosed?
Your Therapist has strict ethical and professional responsibilities to keep the content of your sessions confidential.
Nonetheless, there are a few exceptions to this rule where your Therapist may be obliged to disclose information about your sessions to meet their legal, or ethical duty.
For instance, these include:
> circumstances where you are assessed to be at risk of harm to self or others; or
> where there is any legal obligation requiring disclosure.
In such cases, external parties (eg family, court, police, or crisis service providers) may be informed of the situation.
Do note that, typically, the TYHO platform defers to your Therapist regarding disclosure of any information (eg session notes or messages to Therapist). Numerous jurisdictions have stringent regulations around Therapist-client relationships and the confidentiality obligations accompanying it. If you have any concerns or questions regarding your Therapist's confidentiality obligations, you may wish to discuss this with them during your session.
What is online counselling?
There are ups and downs in everyone's life. One effective way to deal with a difficult personal situation is by talking to someone trained in helping you work through issues and find suitable solutions. Online counselling refers to accessing such services remotely through your computer or personal device, be it a laptop, tablet, or smart phone.
At Talk Your Heart Out (TYHO), this can be done via video or audio functions facilitated by the TYHO platform, whatever your preference may be.
Several studies have shown that online sessions can be as effective as traditional face-to face counselling, with the added advantages of flexibility, relative anonymity, affordability and convenience.
What are the benefits of online counselling?
Talk therapy has been shown to have numerous benefits to one's overall wellbeing, including improving self-awareness, enhancing interpersonal interactions, and managing certain physical illnesses (eg chronic pain and IBS).
Above all, it allows one to not just deal with their immediate concerns but also cultivate healthy habits that improve their overall quality of life. These practices can then be imparted to loved ones as well.
If you are thinking about going for counselling, you may want to consider the various advantages of doing it online, including:
> Easier access to counselling, particularly for those who are otherwise busy with work or other commitments, have carer responsibilities, or reduced mobility.
> Up to 50 percent more affordable as compared to traditional in-person sessions.
> Greater time efficiency as travelling is not required, and scheduling is made simpler.
> Reduced inertia and fear of judgement as you will be attending sessions from a private space.
> The option to express yourself through writing, if you prefer.
At the very least, conversing with a Therapist on our platform lightens your mental load and gives you another perspective to approach your issues.
How are online sessions different from in-person sessions?
The primary difference between online sessions and in-person sessions is where and how counselling takes place.
1. Location
> With online sessions, you can select a private setting that suits your preferences, such as your residence, workplace, or any other relaxing environment to attend your session from. This option also allows you to switch Therapists via our platform effortlessly. 

> With in-person sessions, you would have to visit a specified location, typically the Therapist's office, for your session.
2. Communication
> With online sessions, you can opt for your preferred mode of interaction (eg an audio call), depending on your comfort level.
> With in-person sessions, you are involved in direct, face-to-face conversations with your Therapist.
Ultimately, finding the medium for therapy that works best for you is most important.
Note: Currently, in-person sessions on TYHO are only available in Singapore.
Can I remain anonymous during an online session?
Not entirely. Your safety is important to us, and hence, your Therapist must be able to contact you or an individual you trust in case of an emergency.
Otherwise, we collect minimal information (eg your name, email address, and mobile number) during the sign-up process and do not require you to share any other personal details, such as your date of birth or identification number, that can identify you.
If you wish to remain relatively anonymous, you can opt for an audio call with your Therapist. That way, you will not be required to turn on your video.
When is online counselling unsuitable?
As a general guideline, online counselling is not suitable where a person:
> is in a crisis;
> is suffering from psychiatric disorder and/or experiencing psychosis such as hallucinations, paranoia or delusions;
> experiences severe or long-term mental health illness; or
> engages in excessively risky behaviour such as heavy alcohol or drug use.
Persons experiencing the above may consider engaging a clinical psychologist or psychiatrist for an in-person session instead. Psychiatrist are medical doctors who specialise in the diagnosis and treatment of mental health disorders and can prescribe medications if necessary.
If you are in crisis, or another person may be in danger, please do not use the TYHO platform. Please refer to our crisis resources instead.
I am permanently locked out of my account. What should I do?
If you see the following message, "Your account is permanently blocked", you will not be able to sign into your account or reset your password.
Please email us at [email protected] for further assistance.
I forgot my password and am temporarily locked out of my account. What should I do?
For security reasons, our system temporarily locks your account if a wrong password has been entered 3 times. However, you will still be able to reset your password and enter your password if you need to access your account immediately.
Please note that a password reset will require two-factor authentication using an OTP.
If the issue persists, please email us at [email protected] for further assistance.
How do I book sessions at a discounted rate?
Clients may purchase a package or top up their wallet (minimum top-up required) to book sessions at a discounted rate.
To do so, please click on "Buy a Package" from the right-hand menu of your TYHO Dashboard.
After you have successfully bought a package or topped up your TYHO wallet, your credits in your TYHO wallet will be updated to reflect this.
To use your wallet credits, simply ensure that the "Use Wallet Balance" field is checked on the payment page.
How long is each session?
Introductory sessions are 30 minutes long. They serve as an opportunity for clients to assess the client-Therapist fit.
All other sessions (individuals, couples etc) are 1 hour long.
Where do I go to attend my session?
Online (audio / video) sessions take place on the platform via your TYHO Dashboard. To attend your session, please first sign into your TYHO account. If you scroll down on your TYHO Dashboard, you will see a "Start Session" button on your upcoming session booked for the day. Click on it a few minutes before the start of your session to launch the videoconferencing plugin and enter your session.
In-person sessions take place at your Therapist's office space. After you have successfully booked your session, their full address can be found on your TYHO Dashboard or in the booking confirmation sent via email. Please head down to the stated location on the day of appointment to attend your session.
Note: In-person sessions are currently only available in Singapore.
What is TYHO's rescheduling / cancellation policy?
Talk Your Heart Out (TYHO) has a minimum 24-hour rescheduling / cancellation policy. We do not accept rescheduling / cancellation requests or changes to your appointment (including service or medium) within 24 hours of the scheduled appointment time to be fair to our Therapists who have blocked out time for sessions.
As payments made towards such appointments will be non-refundable, you may wish to check on your availability as well as the service and medium selected before making a payment.
Prior to this 24-hour period, you may reschedule or cancel your appointment directly via the platform.
How do I book a session (individual, couples, in-person etc)?
The different services (eg individual), mediums (eg online), and time slots our Therapists offer are listed on their respective profiles.
You will be able to book a session with your Therapist of choice by clicking on "BOOK A SESSION" either on their short or full profiles.
Simply select your service and medium preferences accordingly and pick a time slot that best suits you. You will be directed to our payment page after confirming your selection. Upon successful payment, you will receive a booking confirmation to your email address. The booked appointment can also be found on your TYHO Dashboard.
Note: A session will only be confirmed upon successful payment in full.
What are the different mediums for therapy available at TYHO, and what are the differences between them?
Online (audio / video) sessions take place on your TYHO Dashboard, where you and your Therapist speak with each other through a video-conferencing interface.
In-person sessions take place at the Therapist's office, where you and your Therapist interact directly face-to-face. Our Therapists who offer in-person sessions have location tags indicated on their profiles. Currently, in-person sessions are only available in Singapore.
Please note that online sessions can be as effective as traditional in-person counselling, with the added advantages of flexibility, affordability, convenience and autonomy (eg control over your environment).
What are the different services offered?
We offer individual and couples counselling services on our platforms.
Additionally,
> Family, trauma, Walk & Talk, and hypnotherapy services are available in Singapore.
> Introductory services are available in India and Malaysia.
The services each Therapist offers are indicated on their profile.
Please ensure that your Therapist's profile lists the particular service you are looking for, and that you select the option accordingly when booking your session. For example, if you would like to have a couples counselling session, please select a Therapist who has "Couples" indicated on their profile, and select "Couples" under the Services tab when booking your session.
How do I select a suitable Therapist?
You may visit app.talkyourheartout.com to shortlist suitable Therapists. On this page, you will be able to filter our Therapists on the basis of issues you would like to seek support for, and any preferences you may have in terms of gender, language, service type and medium.
You may also wish to go through their videos and individual profiles, including reviews for them, to learn more about their practice, background and approach to therapy. This allows you to gauge if they are a good fit before you book a session with them.
For therapy to be effective and to see significant improvements in one's life, one may need to go for sessions for months or even years. As such, having a Therapist who you feel you can open up to easily is important, as the quality of therapeutic alliance is often a reliable predictor of positive outcomes for the client.
Please note, however, that a Therapist who may be right for one person may not be as suitable for another.
It is perfectly okay to try out therapy with a second or third Therapist if you find that you did not gel with your Therapist in your first attempt, or even to give yourself options.
Why do some Therapists charge a slightly higher fee?
Some Therapists have specialisations or possess specialist certifications (EMDR, Gottman Method for couples therapy, etc). These enable them to offer assistance to individuals who have more complex, serious issues (eg trauma, addiction, etc) where sessions may be longer and more demanding.
Regardless of Therapist category, all TYHO Therapists are selected through the same, strict selection process. They each have the right qualifications (minimum Master's degree) and professional training, and are also aligned with TYHO values.
Most importantly, we encourage clients to select the Therapist based on whether the Therapist will be a good fit for their needs, and whether they will be able to open up to the latter easily and speak about matters that may be deeply personal.
Who are you seeking therapy for?