Articles on mental health and wellbeing
Mental health is as important as
physical health
When was the last time you did something for yourself?
Why do so many people seek mental health advice? What is mental health? Why is mental health so important? 
People often think that good mental health is something we either have or don't have. This isn't true. There may be times in our lives when our mental health is better. But there will be periods where we may struggle more with our mental health, feeling low, anxious or even tired. 
Think of it as a parallel to physical health.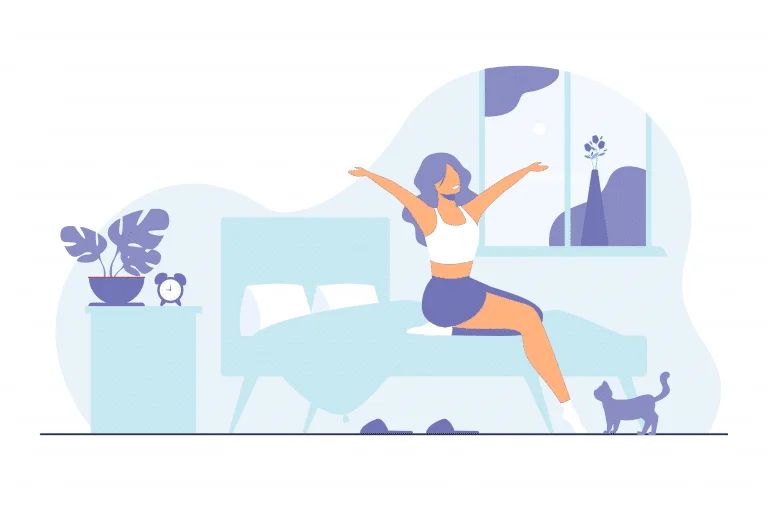 In those months leading up to that marathon, we felt fit and healthy. But then there were those months (or years) of being a couch potato. The world readily – and openly – acknowledges the importance of maintaining good physical health and how it can ebb and flow. Hopefully someday, mental health will catch up. 
We could all use some mental health advice and tips every now and then.
This article provides a brief overview to mental health. The first section explains what mental health is, common signs and symptoms of mental health issues, and what constitutes an individual's mental health. The second section introduces mental health services and treatment options, as well as mental health tips everyone can benefit from.
The World Health Organization (WHO) emphasises that mental health is more than just the absence of mental disorders. Mental health is, in fact, an integral part of health. There is no health without mental health.
WHO defines mental health as "a state of well-being in which an individual realizes his or her own abilities, can cope with the normal stresses of life, can work productively and is able to make a contribution to his or her community".
Do You Have a Mental Health Concern?
How might you be able to tell if you are struggling with a mental health concern? Some common signs of mental health issues or illness are listed in this section. This list is not exhaustive. Neither is it meant to be diagnostic. 
Assessment and diagnosis of an illness can only be done by mental health professionals such as a psychiatrist or a clinical psychologist. Seeing a medical doctor or your primary healthcare provider may also be helpful in ruling out other possible causes of your physical symptoms. These are some common signs of mental health issues or illnesses:
If you notice any of these symptoms, seek help early. Don't wait for the condition to worsen. If you or anyone you know is feeling suicidal, seek help immediately. 
Go to, or accompany the affected individual to the emergency department of a hospital. Alternatively, contact your primary healthcare provider if they are available. You may also call your country's suicide prevention hotline. 
In Singapore, this would be the Samaritans of Singapore. They may be reached 24/7 at 1767. For other countries, refer to this list of suicide prevention helplines.
What Contributes to Your Mental Health?
Many factors contribute to an individual's mental health. These factors may be biological, psychological, or social.
These include genes, family history of certain mental health conditions, and chemical imbalances. It also includes brain injuries, factors relating to the brain's structure and functioning, as well as the central nervous system. 
Biological factors may influence individuals in various ways, such as by affecting one's regulation of emotions, and thought patterns. For instance, an overactive brain structure may cause an individual to view the world in a biased way. The individual may also perceive threats, even if there are actually none. In this way, an overactive brain structure contributes to the development of mental disorders.
Each one of us has different values, belief systems, and mindsets. We learn these throughout our lives from those around us. These values, beliefs, and mindsets influence the way we respond to challenges in life. Past traumatic events and adverse childhood events may also affect how one views the world. Examples of trauma include physical, emotional, or sexual abuse.
These include having to experience adverse circumstances. Examples include poverty, debt, social exclusion, discrimination, stigma, and violence related to belonging to a minority group. Social isolation and stress may also impact one's mental health. It is important to note that what is defined as stressful may vary from individual to individual.

Mental Health Services and Options
People sometimes assume that mental health is a matter of willpower. It is not. An individual with a mental health condition is not "weak". Neither are mental health struggles something that an individual can choose to "snap out of". The struggle is real. More often than not, individuals with mental health conditions desire very much to overcome their difficulties. However, they may not know how to do so, or even where to begin. This is where treatment comes in. Treatment for mental health conditions may include medication, therapy, or a combination of both.
There are many different types of mental health medications used to relieve the symptoms of mental health conditions. What medication works for each individual may differ. Different medications may have different functions. Keep in mind that it may take time, and trial and error before finding a medication that suits you. For more information about whether medication may be suitable for you, and if so, which medication, ask your primary healthcare provider or a psychiatrist. In many cases, medication is used in conjunction with therapy.
Therapy in this sense refers generally to "talk therapy". A therapist may be a clinical psychologist or a counsellor. A clinical psychologist may help by providing an assessment and diagnosis, followed by treatment. A counsellor may help with navigating day-to-day struggles in various aspects of life. Examples include difficulties with family, work, and relationships. Therapists are trained to provide a safe space that is neutral, non-judgemental, and objective. Clients often experience greater clarity and increased self-awareness. Individuals can then work towards their next steps with more focus and objectivity.
Along with the benefits of individual therapy, group therapy allows you to connect with and hear from others with similar conditions or experiences. People often benefit greatly from knowing that they are not alone in their struggles. Group members glean insights from each other by exchanging ideas and coping strategies. Unlike individual therapy, there may also be continued mutual support and friendship beyond the end of therapy. This is because group members typically prefer to stay in touch with one another. Group therapy now exists for various mental health conditions. Caregivers of persons with mental health conditions too, may attend their own group therapy, with fellow caregivers.
Mental Health Tips – How to Improve Your Mental Health
Just as people hit the gym regularly to build their physical health, take a proactive approach towards your mental health. Don't wait for breaking point before reaching out for mental health advice. It will be much harder to do something about it then. This section introduces some simple ways to take care of yourself. These could be done regularly to improve your mental health.
Exercising causes your body to release chemicals called endorphins, which boost your mood and overall mental health and wellbeing. Exercise also helps with weight management, and reduces the risk of chronic physical health conditions such as diabetes. Exercise also reduces the risk of anxiety, depression, and dementia. 
However, do make sure that any exercise done is suitable for you in view of your physical health status. Also, slowly increase the intensity of any new exercise that you start. Safety first, always!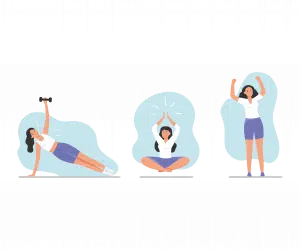 Sleep is closely related to mental health. A mental health condition may affect your quality of sleep. Similarly, the reverse may also be true. Poor sleep quality may influence how you feel the next day, and your mental health. Getting a good night's rest improves mental and emotional resilience. Improve your "sleep hygiene", or good sleeping habits. 
For example, remove devices such as televisions, laptops, or mobile phones from the bedroom. Make sure that your room is dark, silent, and relaxing. The temperature should also be comfortable for you. Avoid caffeine and alcohol near bedtime. Some people feel that alcohol before bedtime helps them to fall asleep faster. However, studies have shown that alcohol does not improve one's quality of sleep. On the contrary, alcohol reduces REM, or rapid eye movement, sleep. Exercising may also make it easier for you to fall asleep at an appropriate bedtime.
Moderate alcohol intake and smoking
Alcohol and smoking may help you feel better temporarily. However, they often sabotage you over time as you become increasingly reliant on them. Instead of immediately turning to alcohol or smoking out of habit, try expanding your toolbox of coping strategies and ways to respond to different situations. This is something therapists frequently help with.
It can be helpful to remember that the world is larger than what goes on in your mind. Keeping in touch and spending quality time with your loved ones can improve your mood and wellbeing. In tough times, it helps to know that there are people we trust who will be there for us, and vice versa. However, studies have shown that excessive use of social media may be associated with greater risk of depression, anxiety, loneliness, and suicidal thoughts. Observe how social media affects you. Moderate your use of social media accordingly.
Caring for yourself is not just important; it is essential. Be kind to yourself. There are limitless ways to engage in self-care. Different things may work for different people. Some common examples include taking a break, jogging, taking a slow walk, yoga, power naps, reading a novel, solving a puzzle, journaling, playing with a pet, and so on. The possibilities are endless. You may also read up about how to do 5 self-care tips better here.
Take note of what works well for you
When problems occur, people tend to dissect them to see what went wrong, and how. Try using this same approach when things go well. What went well? What made it go well? What were you doing differently? Go beyond noticing "what went well". Understand the "how" behind it. Doing this will allow you to identify your strengths and apply them to other situations in future.
Increase your knowledge about mental health
There are plenty of mental health resources out there, regardless of which aspect of mental health you're interested in. You may find out more about the signs and symptoms of different mental health disorders and ways to improve your mental health in general. There is also information on the different evidence-based approaches therapists adopt. There are guides on how to support a loved one. Examples include how to support a loved one with work-related stress, and how to avoid four annoying "listening" habits. 
Learn more about mental health so that you can recognise the signs and symptoms if and when they appear. This can be helpful for both yourself and your loved ones. It allows you, as well as those around you, to seek help early, and heal. There is much knowledge to be gained from trusted websites, books, and by speaking to mental health professionals. There are also resources about how to become a mental health counsellor.
Struggling with a mental health illness is no walk in the park. What's even worse is if you're going through it alone. Help is always out there, once you're ready. There are many others who have sought help and learned to cope better despite life's challenges. Reach out to your primary healthcare provider, a psychiatrist, or a therapist as a starting point.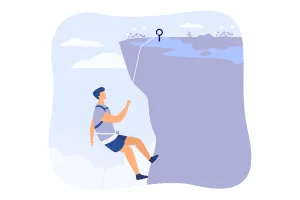 If a different service could be more beneficial for you, the professional you've approached will provide you with relevant information or make an appropriate referral. You won't be the first person to have sought help for such difficulties.
Applying mental health advice to your daily life is a good starting point. Recognising when to seek professional help, though, is crucial. When facing a mental health illness, it can be tempting to think that it would be easier not to tell anyone. However, facing mental health difficulties alone can be an uphill and challenging battle, not to mention emotionally draining over time. 
Things change when we start to view mental health the same way we approach our physical health. Give it the same level of attention and treatment. Seek help early, before things get worse. People often underestimate the level of work needed in the treatment of mental health difficulties. They try to fix it all by themselves. If you broke a leg, would you fix it on your own?
You can read all our articles on mental health and wellbeing HERE. Hope you find them useful. 
Mental health news and tips delivered to your inbox monthly
Questions Pertaining to Mental Health
Punitha Gunasegaran
Psychologist
Ser Fee
Professional Counsellor
Alicia Prescott
Professional Counsellor
Joseph Quek
Professional Counsellor
Karen Chok
Professional Counsellor
Alexandra Oh
Psychologist
Desieree Makalew
Psychologist
Rashmi Kunzru
Professional Counsellor