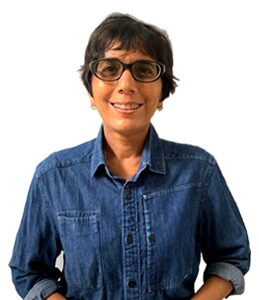 "Your time is limited, so don't waste it living someone else's life. Don't be trapped by dogma – which is living with the results of other people's thinking.
Don't let the noise of others' opinions drown out your inner voice. And most important have the courage to follow your heart and intuition. They somehow already know what you truly want to become. Everything else is secondary." – Steve Jobs
Beena is warm, caring, and non-judgemental in her approach. She listens quietly albeit actively and gently facilitates clients in processing and clarifying whatever it is they are facing and feeling overwhelmed about. Her demeanour exudes unconditional positive regard and empathy for her clients. She strives to make her clients feel safe and creates a nurturing environment where they can freely talk their heart out.
She believes her role as a counsellor and psychotherapist is to partner clients as they start on their journey of gaining clarity. Through gentle questioning and using Choice Theory and Reality Therapy as a framework, she guides her clients in identifying and evaluating their wants, needs, and options, and finding areas to work on. She is also skilled in Cognitive Behavioural Therapy (CBT), Motivational Interviewing, Acceptance and Commitment Therapy (ACT) and Solution Focused Therapy.
Throughout her interaction with her clients, Beena equips them with essential skills such as managing emotions, acquiring life skills (EQ, communication, etc) and mindfulness. She advocates the importance of taking pauses to reflect before choosing responses that are aligned to their values.
She has more than 30 years of work experience in various fields, including in higher education, human resources, healthcare, IT, learning and development, education & career development, mental wellness, and mental health counselling.
Beena has vast experience with career counselling and helping clients with their relationships, personal effectiveness, mental health (depression, burnout, anxiety, panic attacks, mindfulness, stress management, low moods), time management, learning to learn, breaking procrastination cycles, setting goals, amongst others. Beena is also skilled in personality profiling, using tools such as Myers-Briggs Type Indicator® (MBTI®), Emergenetics and Hogan Personality Inventory. In addition, Beena is a clinical member and registered counsellor of the Singapore Association for Counselling.  
She is especially skilled in helping youths, parents, couples, individuals undergoing major transitions and those who are at crossroads in their lives. Beena's speciality lies in coaching high performers to help them develop holistically – balance all areas of their life and live their life the way they want.  
Beena learns and reads voraciously. She strives to improve herself daily to render the best level of care and support for her clients.
Beena was very friendly and responsive to my queries and problems. I felt safe to share my issues and concerns with her. I also felt that the pacing of the session was good.
It felt easy to speak to Beena. I appreciate her advice, and her taking the time to speak with me past the 1-hour slot.
Beena was awesome and great to talk to. I had no trouble opening up and she led the conversation so I felt comfortable. She gave me valuable insights and resources that I could read on my own to help myself even more! Thank you Beena. 🙂
Beena managed to identify the problem instantly and provided sound solutions for me to improve myself. She is also able to empathise with me quite well. Thank you for the session!
Beena managed to identify the problem instantly and provided sound solutions for me to improve myself. She is also able to empathise with me quite well. Thank you for the session!
Beena is brilliant. She has really helped me, and I find that I keep booking another session with her. She brings together science, reality, ways of management, and feelings to give a very pragmatic view but also helps me with understanding them to look at things from a non-biased point of view.
Educational qualifications / certifications:
Professional Memberships:
What Beena can help you with: