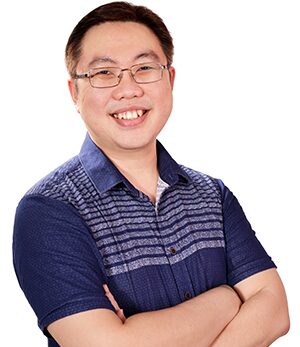 Edmund has been a counsellor in Singapore for eight years. Growing up, Edmund found himself searching for solutions to his problems in self-help books. At 26, he met an empathetic counsellor who turned his life around. The counsellor helped him work through his issues and set some realistic goals. Inspired by this positive experience, Edmund made it his mission to become a professional counsellor himself.
Edmund strongly believes in nurturing authentic relationships with his clients. As only then, clients can express their feelings honestly and examine their vulnerabilities in a trusted professional environment. Clients often find it comfortable to work with him because of his warm and supportive demeanour.
He sees his role as supporting clients and empowering them to take personal responsibility – that is, to take small and consistent steps to make positive changes in their lives. Together, Edmund and his clients have tackled a wide range of topics, from school and academic stress, parental anxiety to mood regulation such as depression, anxiety and anger management.
Edmund is firmly grounded in Choice Theory and practises assimilative integration, and uses interventions from Choice Theory, Positive Psychology, Jungian Analytical Psychology and the expressive arts. Edmund has a Master in Professional Counselling from Swinburne University (Australia) and Diploma in School Counselling from National Institute of Education (Singapore). 
Edmund has lived in Malaysia and currently resides in Singapore.
Edmund is a very nice and caring counsellor. I feel really happy that I finally seek help after so many years of suffering even though it's expensive for the therapy but it really help me a lot in my mental health and I feel so much better in life. Thank you Edmund!!
Thank you, Edmund, for the service. He was very friendly and patient. I am pretty much feeling better after knowing more about myself. Thank you 🥰
Edmund asked me very good questions.
Edmund is patient and the advice he gave is useful.
I like the consistency in my sessions with Edmund as he helps me take small steps to cope with my issues.
Educational qualifications / certifications:
What Edmund can help you with: