With
Therapy

From time to time, all of us experience major life changes, complicated relationships or career setbacks.

Talk Your Heart Out… we are here to listen.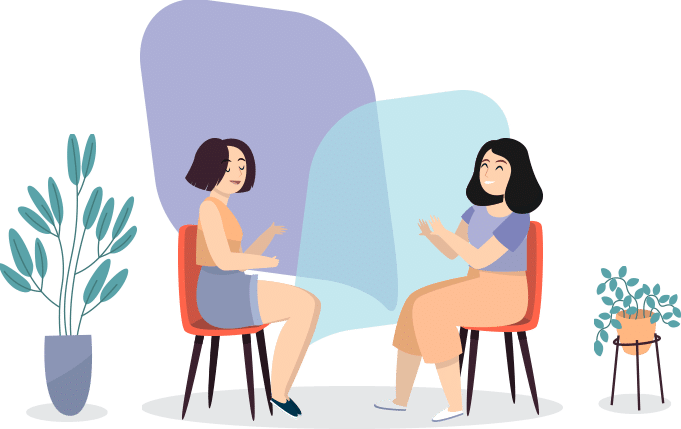 How It Works
Access online counselling anytime, including after work hours and on weekends.
01

Choose Your Therapist
Filter TYHO Therapists based on your preferences. Read their profiles, watch their videos, and select one who best suits your needs.
02

Book a Therapy Session
View the availability of your preferred Therapist and book your session on a suitable day / time.
03
Attend Your Session
Attend your online session (video / audio) on our platform, and your in-person session at the given address.
What our clients say
find quality of services to be our defining feature
find our platform convenient
to use
of our clients would recommend TYHO
Quality Online Counselling in Singapore
Finding the right Therapist. We understand that finding a good Therapist (ie professional counsellor or psychologist) can be a daunting process, especially since Singapore has no specific regulatory regime governing mental health professionals. We often discuss greatly personal details with our Therapist as we seek to dissect, unravel and analyse life's challenges and deal with them head on. As such, at TYHO, we aim to ensure that you can count on us to find exceptional mental health professionals for you.
What to expect at TYHO. All our Therapists are Singapore based or Singaporean. They not only have the right qualifications (min. Master's degree) and professional training, but are also aligned with TYHO values. These include being empathetic, non-judgmental and sensitive to diverse backgrounds and viewpoints. Each of them is deeply committed to providing their clients with effective therapy.
What Online Therapy Can Help With
Frequently Asked Questions
There are countless types of therapy. The term "therapist" is widely-used, and hence, people often wonder what is meant by occupational therapy, speech therapy, massage therapy, and physiotherapy. The list goes on.
Mental health therapy is also generally known as counselling or psychotherapy. In the context of emotional difficulties, therapy is a safe, confidential, and non-judgmental space. Individuals may share their struggles and work towards a goal with a trained professional.
When looking for a therapist, you might find the terms "therapist", "counsellor", and "psychotherapist" used interchangeably. What is most important is trust. Look for a therapist you can trust. This is because the relationship you have with your therapist will be a key factor affecting the outcome of therapy.
Online counselling is the provision of counselling services by a qualified therapist (counsellor or psychologist) through online mediums (eg audio, video conferencing or text-based live chats). It allows for greater convenience, accessibility, and flexibility for both clients and therapists as they save on travel time. All you need is a stable internet connection, and a personal computer or mobile device!
Our Therapists include professional counsellors and psychologists. Professional counsellors are highly skilled in applying integrative therapies to assist people in working through their personal and emotional issues. Psychologists use evidence-based strategies to diagnose and manage more serious mental health illnesses and disorders non-medicinally over the long-term.
In most situations, which type of professional you consult is not critically important. This is because there is considerable overlap among them with respect to the training they have received, types of problems they help with, and the approaches they use. All are competent to recognise and help with the more common mental health issues, whether it is mild to moderate forms of depression, anxiety, relationship problems, or addictions.
Psychologists and professional counsellors (collectively called Therapists on our platform) are all trained in providing talk therapy that would help a client improve their mental health and wellbeing.
The cost of counselling in Singapore can vary significantly, depending on where you go (public sector organisation or private practice) and the type of mental health professional you choose to see (ie psychologists, professional counsellor or social worker). It can also depend on the mode of counselling, whether it is in-person, or done via audio, video, or text-based live chat. Typically, a counselling session in Singapore can cost anywhere between S$50-300 per hour.
Please click here to find out more about our pricing at Talk Your Heart Out (TYHO). 
Our earliest sessions are usually 24 hours away to give our Therapists sufficient notice to block out time and prepare for sessions. The time slots each Therapist offers are reflected on their respective profiles here.
See the pricing section for our fees, and the FAQs for further information.
If you have other questions or would like assistance in selecting a Therapist, feel free to email us at [email protected] or WhatsApp us at +65 9831 0005.
Psychiatrist:Diagnoses mental health conditions and can prescribe medication.
Clinical Psychologist: Diagnoses mental health conditions, and manages more serious mental health disorders non-medicinally in the long-term.
Psychotherapist: Focuses on your thought processes and helps you identify the root causes of your issues using specific therapeutic modalities and approaches.
Professional Counsellor: Employs an eclectic approach and draws from several integrative therapies to help people work through personal and emotional issues.
Social Worker: Works with and advocates for individuals and families, and liaises with various parties in the community on behalf of client.
While the issues people seek support for are varied, if you have been feeling persistently low, losing interest in your usual activities, or finding it difficult to maintain relationships with your loved ones, it may be sensible to set time aside for counselling also known as therapy.
Often, we put off going for counselling as we feel like our issues are not "serious enough", or are unsure of what to say to a therapist.
Find out more about signs that you may need counselling and the issues you can seek help for here.
TYHO offers not only online therapy, but also in-person counselling services – however, these are only provided in Singapore at present.
Our Therapists who provide in-person sessions are as follows – please click on their names to view their full profiles:
Each session is an hour long. This applies to all our sessions, be it the individual, couples, or in-person session.