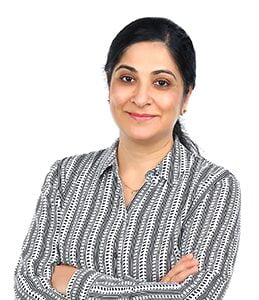 Rashmi holds a Master's Degree in Social Sciences in Counselling from the City University of Hong Kong, and a Master's in Psychology from the University of Lucknow, India. She has been counselling for several years, serving in the social sector, helping both local and expat clients.
Rashmi is a skilled person-centred therapist, but also integrates other counselling approaches like Narrative Therapy, Cognitive Behaviour Therapy and Solution Focused Therapy, depending on the needs of individual clients. She prioritises trust and respect for the client in a therapeutic relationship. 
In her view, what is often required to help a person is providing the conditions that foster the vitality of the person's innate recuperative and growth capabilities. Hence therapy is not about doing something "to" the client, but providing them conditions that free their capacities for health and growth.
Rashmi has clinical experience in helping adults and young adults in dealing with mental health issues (eg anxiety, depression, self-harm behaviour, bereavement), difficulties in intimate relationships (marital difficulties, divorce and remarriage), substance abuse, chronic illness or disability of loved one, physical / sexual abuse, parenting difficulties (including those of special needs children) and acculturation problems.
As a part of outreach programme, she has conducted workshops for parents of Special Needs Children and with other local schools on various topics in order to provide clients with education and coping skills relating to anxiety, depression, stress management, life transitions and other areas of self-care important to personal growth and understanding.
Living in different countries and interacting with people from various nationalities has made Rashmi culturally aware and sensitive to the influence of culture in personality formation, mental health and help seeking behaviour of people from the South Asian community.
Prior to becoming a counsellor, Rashmi had been in the education and human resource development sector. She has authored and co-authored several research papers in leading international journals.
She has lived in India, Japan, China & Hong Kong. She currently resides in Singapore.
Rashmi was referred to me when I was going through a turbulent time facing a divorce after a long-standing marriage and managing a new demanding relationship. I have been talking to her via video calls about my relationship, marriage and the emotional upheaval I have been facing the last 3 years. She has been gentle, patient and helped me recognise the abuse that I have faced; to believe in myself and be strong and most of all manage the trauma and anxiety and focus on rebuilding my life.
In the beginning after the death of my husband before I met Rashmi, I did not feel good at all. I used to wonder how I will go through life without my husband and how take care of my children all by myself. I was frightened to face life and felt hopeless and used to think my life was over. Then I met Rashmi and my healing started. She patiently listened to me as I expressed my grief and worries, encouraged me to take one step at a time and re-engage with life again. She gave me all the help and support I needed and gradually I am now beginning to feel much better and confident as I go about re-building my identity and taking care of my children. I thank her for all her help in getting me through such tough and emotionally challenging times.
End of 2020 was indeed a roller coaster! While the world was hit by pandemic, I was hit by a cheating partner terribly. During those anxious times Rashmi came to be a wonderful ear and a shoulder to grieve. She listened and then helped me to face it, to overcome it and to be myself once again. Thank you Rashmi for guiding me through those days. Wish you all the best.
Educational qualifications / certifications:
What Rashmi can help you with: